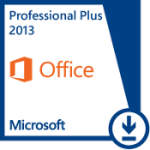 Volume license customers with access to the Microsoft Home Use Program (HUP) have immediate access to Microsoft Office Professional Plus 2013 for use at home.
Can employees upgrade to the new version of Office 2013?
Any employee who has previously purchased earlier versions of Office or Mac through HUP is eligible to return to the HUP site and upgrade to Office 2013. Pricing will vary by country. An employee upgrade does not count as a consumption against the account's HUP Licenses since the system is able to recognize the employee as eligible for an upgrade.
Can employees switch platforms?
During an upgrade, employees are allowed to switch platforms. If an employee previously purchased Office and wants to switch to Mac (or vise-a-versa) – it's ok. Remember, eligible employees are allowed to purchase Office or Mac, not both. However, this launch is for OFFICE ONLY so Mac will not be available at the time of the Office 2013 launch. Mac users or people who want to switch platforms will need to wait for the Mac release to update. There is no date for the Mac launch.
What counts as a consumption?
Any employee who purchases Office 2013 as a first time user of HUP program will count as a consumption against the account's HUP licenses.