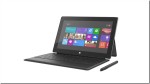 Microsoft Corp. today announced that it will expand the availability of Surface Windows RT to 13 additional markets in Europe including Belgium and Luxembourg more than doubling the number of markets in which Surface is currently available.
Surface Windows RT can be purchased from Feb 14, 2013 in the Microsoft Store online. Furthermore, Surface Windows RT will be available in the coming weeks through various retailers in Belgium and Luxembourg. "The response to Surface has been exciting to see," said Jean Benoit Van Bunnen, Windows manager in the 2 countries "We're incredibly thrilled that customers in our country will soon be able to experience and purchase Surface Windows RT firsthand." Surface Windows RT combines the portability of a tablet with many of the functionalities of a laptop. From the Touch Cover that provides a super-thin, spill-resistant keyboard in a variety of colors, to the integrated kickstand that enables hands-free entertainment, Surface stands out while delivering value and performance like nothing else on the market. With Windows apps, SkyDrive cloud connectivity, HD video, Xbox Music, games, a full-size USB port, a microSD card slot and the productivity of Office Home & Student 2013 RT, Surface with Windows RT brings work and play together in style. Surface Windows RT will be available in 32 GB and 64GB versions bundled with a black Touch Cover for an estimated retail price of 579€ and 679€ or as standalone to allow customers the option of selecting a Touch Cover or Type Cover of their choice for an estimated retail price of 119,99€ or 129,99€.
As an additional accessory customers will have the option of purchasing a Wedge Touch Mouse, Surface Edition. The Wedge Touch Mouse will be available in all markets in which Surface is currently sold and will be coming soon to the 13 European markets in which Surface Windows Surface RT will launch.
In addition, to the market expansion Microsoft is growing the Surface family of PCs. Its newest model — Surface Windows 8 Pro — will be available for purchase on Feb. 9, 2013, in the United States and Canada. Powered by an Intel Core i5 processor, Surface Windows 8 Pro provides the power and performance of a laptop in a tablet package. Perfect as your one device – at home, in the office, or on the road – it can run Windows 8 applications, as well as current Windows 7 desktop applications. Starting at an estimated retail price of US$899, Surface Windows 8 Pro will be available in 64GB and 128GB models. A Surface pen with Palm Block technology, designed specifically to work with Surface to let customers edit, collaborate and get things done, is included with Surface Windows 8 Pro. Additional details on Surface are available at http://www.surface.com.