Citrix now part of the Cloud Software Group
On September 30, 2022, Citrix joined the Cloud Software Group by merging with TIBCO Software. The Citrix name remains in place. Cloud Software Group is moving to a subscription-only model, which affects Citrix licensing: Citrix retired perpetual licensing and replaces it with the new Citrix Universal Subscription.
Citrix Perpetual Software Maintenance: Retirement
Effective March 5, 2023, the renewing of outstanding active Citrix Perpetual Software Maintenance retired. All existing active contracts are honored to their expiration dates.
Citrix retired Citrix Perpetual Software Maintenance as an encouragement for Citrix customers to move to the Citrix Universal Subscription, as Citrix is completely moving toward a subscription model.
Citrix Universal Subscription: Availability and Features
Effective March 8, 2023, the Citrix Universal Subscription is available.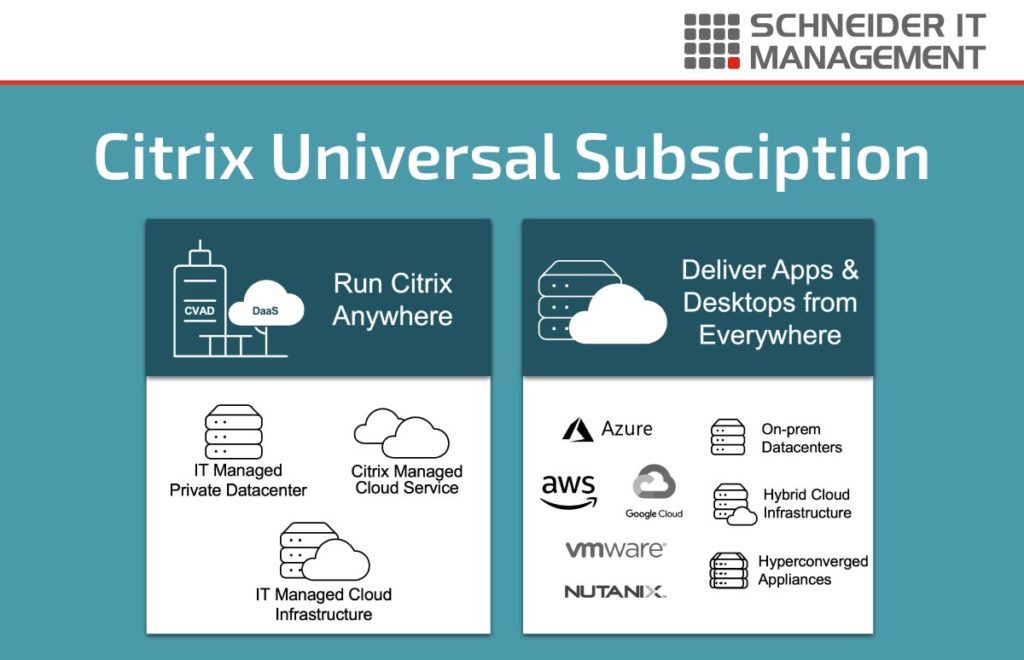 Citrix Universal Subscriptions offer the best of both worlds. They combine the benefits of cloud-based Citrix desktop as a service (DaaS) and IT-managed Citrix Virtual Apps and Desktops deployments with industry-leading Customer Success Services. Organizations can support and optimize apps and data that need to remain on-premises while offloading cloud management to Citrix and other public cloud providers. Additionally, new features are continuously added to both cloud and on-premises deployments to improve user experience, security, and flexibility.
Citrix Universal Subscription: Editions of Citrix DaaS and Citrix Virtual Apps and Desktops
The Citrix Universal Subscription comes in different editions that include features from both Citrix DaaS cloud editions and Citrix Virtual Apps and Desktops on-premises editions. There are four editions available, each with its unique features:
Citrix Universal editions
Features
Citrix Universal Advanced

Citrix DaaS Advanced
Citrix Virtual Apps Advanced

Citrix Universal Advanced Plus

Citrix DaaS Advanced Plus
Citrix Virtual Apps and Desktops Advanced

Citrix Universal Premium

Citrix DaaS Premium
Citrix Virtual Apps and Desktops Premium

Citrix Universal Premium Plus

Citrix DaaS Premium Plus
Citrix Virtual Apps and Desktops Premium
More information
For more information on Citrix software for organizations, please visit: https://www.schneider.im/software/citrix/.
Please contact us for free expert consultancy on your specific Citrix agreements, more information and to request a quote.