KingswaySoft is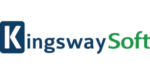 a leading provider of data integration solutions offering SQL server-based data integration & migration and real-time integration.
KingswaySoft est spécialisé dans la création de solutions d'intégration de haute qualité qui sont rentables et faciles à utiliser. Des organisations dans plus de 40 pays à travers le monde comptent sur les solutions d'intégration de données de KingswaySoft.
Les gens chez KingswaySoft sont passionnés en ce qui concerne la qualité de leurs logiciels et le succès de leurs clients. Les processus de développement chez KingswaySoft se concentrent toujours sur le client; les développeurs coopèrent étroitement avec les clients pour assurer que leurs produits les satisfassent au maximum; KingswaySoft garantit également la haute réactivité de ses services de support pour permettre aux clients de profiter de tous les avantages qu'offrent les produits.
Chez KingswaySoft, on pense que les logiciels professionnels doivent être faciles à apprendre et à utiliser, agréables a travailler avec et assez intuitifs pour soutenir les clients dans leurs ambitions de productivité et de succès. KingswaySoft est extrêmement fier de ses produits et vise l'entière satisfaction et le succès de ses clients.
Sa vaste expérience dans le développement de logiciels permet à KingswaySoft de vous livrer des produits de haute qualité auquels vous pouvez vous fier sans réserves.
Pour l'instant, KingswaySoft met l'accent sur la fourniture  de librairies rentables d'intégration de données pour Microsoft SQL Server Integration Services (SSIS), à savoir:
Fondée en 2011, KingswaySoft a son siège social à Oakville, Ontario, Canada.