On February 1, 2024, Ivanti will be increasing prices for new sales of various products, ranging from 5 to 10 %.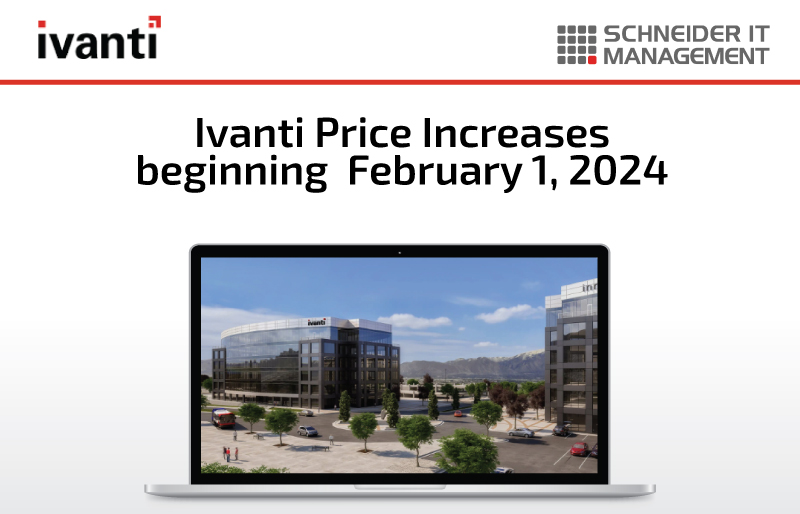 What are the changes and how will they affect your organization?
The changes will impact all new sales of Ivanti products, except renewals of existing contracts. The changes vary by product, following these general parameters:
Software as a Service (SaaS) and On-Premise Subscription products increase by 5%.
Perpetual License and Maintenance products increase by 10%.
Certain hardware products increase by 25%.
Some products have no change in pricing. Ivanti made the price changes based on individual products. For detailed information on the affected products, please contact SCHNEIDER IT MANAGEMENT.
Which products are excluded from the price changes?
Note, that certain products will not be affected by these price increases:
Products that had price changes in Q1 2023 are excluded from this update.
Supply Chain products and Patch products are excluded from this update.
New product packages, such as the new ITSM solution suites and the UEM solution suites, are excluded from the price change updates.
Why are Ivanti increasing prices?
These changes are part of Ivanti's regular price book review and adjustment process, which aims to align the pricing of its products and solutions with the market value and customer demand.
What should you do now?
We recommend purchasing new Ivanti SaaS and On-Premise Subscriptions or Perpetual Licenses and Maintenance products before February 1, 2024. On this date, the price increases take effect.
However, if you already have those licenses and intend to renew, you are not affected.
Please contact us for free expert consultancy on your Ivanti license requirements and to request a quote today.
More information
For our portfolio of software vendors, please visit: https://www.schneider.im/software/.