Until December 31, 2023, this promotion offers 15% discount on Microsoft 365 Business Premium via SCHNEIDER IT MANAGEMENT as your Cloud Solution Provider (CSP).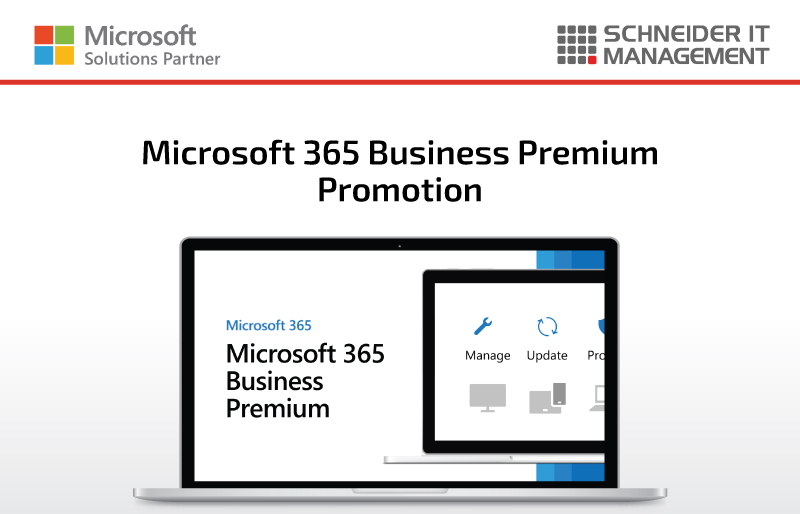 Microsoft 365 Business Premium
Microsoft 365 Business Premium is the best way for small- and medium-sized organizations to safely run their businesses from anywhere with a secure, comprehensive, AI-powered cloud solution. With Microsoft Business Premium, organizations gain access to a suite of applications. This includes Microsoft 365 apps, Outlook, and Teams, and other capabilities, such as Microsoft Defender, Intune, Azure Information Protection, Microsoft Entra ID Plan 1 (formerly Azure AD Premium Plan 1) and more.
Promotion conditions
The promotion is limited to a 300-seat limit per customer tenant. It is available only to New-to-Microsoft Cloud Customers, meaning the customer tenant has no previous purchase history of any license-based Microsoft Cloud Subscription. Only annual commitments to Microsoft 365 Business Premium receive promotional pricing.
Available regions
Included regions in this offer are United States, Western Europe (Austria, Belgium, Denmark, Finland, France, Iceland, Ireland, Italy, Luxembourg, Netherlands, Norway, Portugal, Spain, Sweden, Switzerland), Central and Eastern Europe, Middle East, Africa, Canada, Latin-American countries (LATAM), Japan, Korea, Hong Kong, Taiwan, and Singapore.
Notable Areas excluded from this offer include Germany, United Kingdom, Mainland China, Australia & New Zealand.
For more info and to request a quote, contact SCHNEIDER IT MANAGEMENT.
More information
For the product page of Microsoft 365 Business Premium, please visit: https://www.microsoft.com/en-ww/microsoft-365/business/microsoft-365-business-premium.
For useful software licensing information on Microsoft licensing programs, please visit: https://www.schneider.im/software/microsoft/.
Please contact us for free expert consultancy on your specific Microsoft agreements and to request a quote.