Effective July 1, 2023, until December 31, 2023, the Microsoft Entra ID Governance Step-Up promotion offers 37.5% discount for eligible customers.
Microsoft Entra ID Governance
Microsoft Entra ID Governance empowers organizations to comply with organizational and regulatory requirements while boosting employee productivity. With real-time, self-service, and workflow-based app entitlements, this solution streamlines the employee identity lifecycle, reducing manual work for IT teams. Furthermore, AI-based insights provide valuable information on identities and app entitlements, enabling organizations to make informed decisions and strengthen their overall security posture.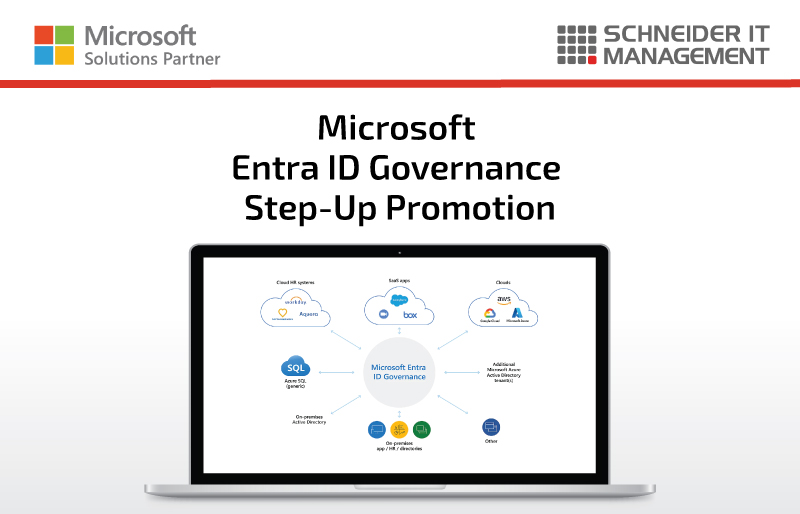 Licensing requirements
To qualify for the promotion, customers must meet specific criteria. Customers are required to have Azure Active Directory (AAD) Plan 2, Microsoft 365 E5 or Microsoft 365 E5 Security. Customers with Enterprise Mobility + Security (EMS) E5 are not eligible for this promotion.
The promotion is available in Enterprise Agreement (EA), Enterprise Subscription Agreement (EAS), Cloud Solution Provider (CSP) and Web Direct.
More information
For the product page, please visit: https://www.microsoft.com/en-us/security/business/identity-access/microsoft-entra-id-governance.
For useful software licensing information on Microsoft licensing programs, please visit: https://www.schneider.im/software/microsoft/.
Please contact us for free expert consultancy on your specific Microsoft agreements, more information and to request a quote.