Until December 31, 2023, introductory pricing is available for Microsoft Teams Premium, offering 30% discount.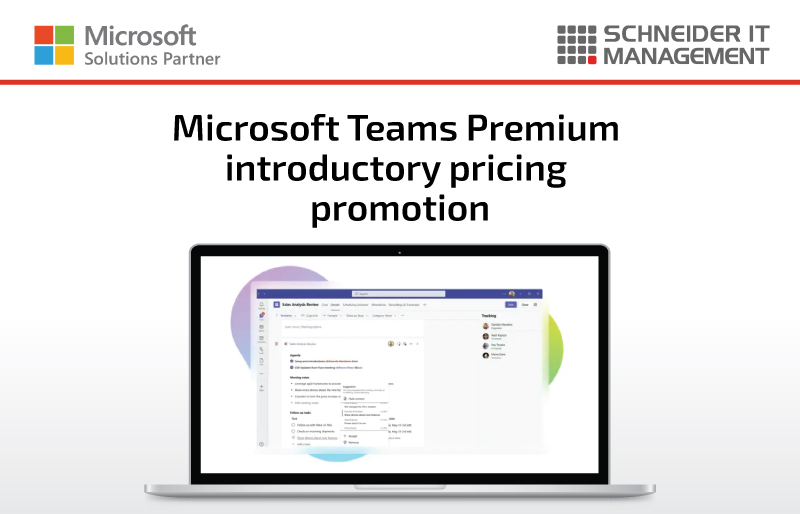 What is Teams Premium?
Microsoft Teams Premium builds on the Microsoft Teams experience with additional features that help make Teams meetings even more personalized, intelligent, and protected. It also enables premium capabilities for additional meeting scenarios, including Virtual Appointments and webinars.
Additional features include for example:
Intelligent recaps to summarize meetings
Live translation for captions
Options for keeping confidential meetings confidential
Help in streamlining registration workflows
Rich analytics.
Licensing
Teams Premium is available as an add-on with per-user per-month licensing to commercial Microsoft 365 and Office 365 customers.
The prices will increase to standard pricing for new customers upon the end of the introductory pricing period.
This promotion is available through SCHNEIDER IT MANAGEMENT in your Enterprise Agreement (EA)/Enterprise Subscription (EAS) or as your Cloud Solution Provider (CSP). Contact us to get a quote for Teams Premium with introductory pricing.
More information
For more Microsoft promotions, please visit: https://www.schneider.im/category/microsoft-promotions/.
For useful software licensing information on Microsoft licensing programs, please visit: https://www.schneider.im/software/microsoft/.
Please contact us for free expert consultancy on your specific Microsoft agreements, more information on this promotion and to request a quote.