Later in 2023, Microsoft 365 Copilot will become available. It combines the power of large language models (LLMs) with your data in the Microsoft Graph and the Microsoft 365 Apps.
How does Microsoft 365 Copilot work?
Copilot will be integrated in the main Microsoft 365 Apps, such as Word, Excel, PowerPoint, Outlook, Teams. Microsoft 365 Copilot works across the LLM (including GPT-4), the Microsoft 365 apps, and your data (Microsoft Graph) – your calendar, emails, chats, documents, meetings and contacts – and combines them to completely do tasks for you.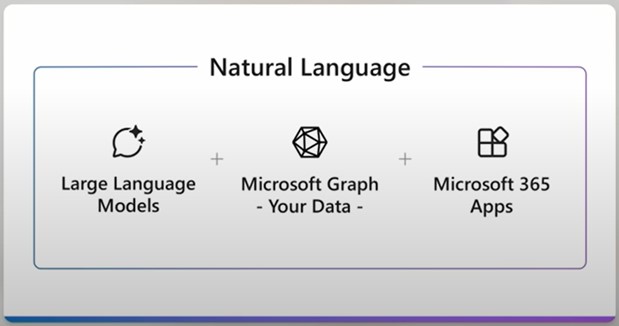 Using the new Business Chat feature of Microsoft 365 Copilot, you can type in a natural language prompt in any Microsoft 365 App and it will creatively do the task for you.
Example: In PowerPoint, you type in "Create a 15 slide presentation about the last quarters financial results using the [filename]". Microsoft 365 Copilot will automatically create the full presentation based on your file's content, structure it appropriately and it lets you make dynamic changes afterwards.
With Copilot, users will make use of more features that are already available within Microsoft 365 Apps. As Microsoft puts it: "The average person uses less than 10% of what PowerPoint can do. Copilot unlocks the other 90%."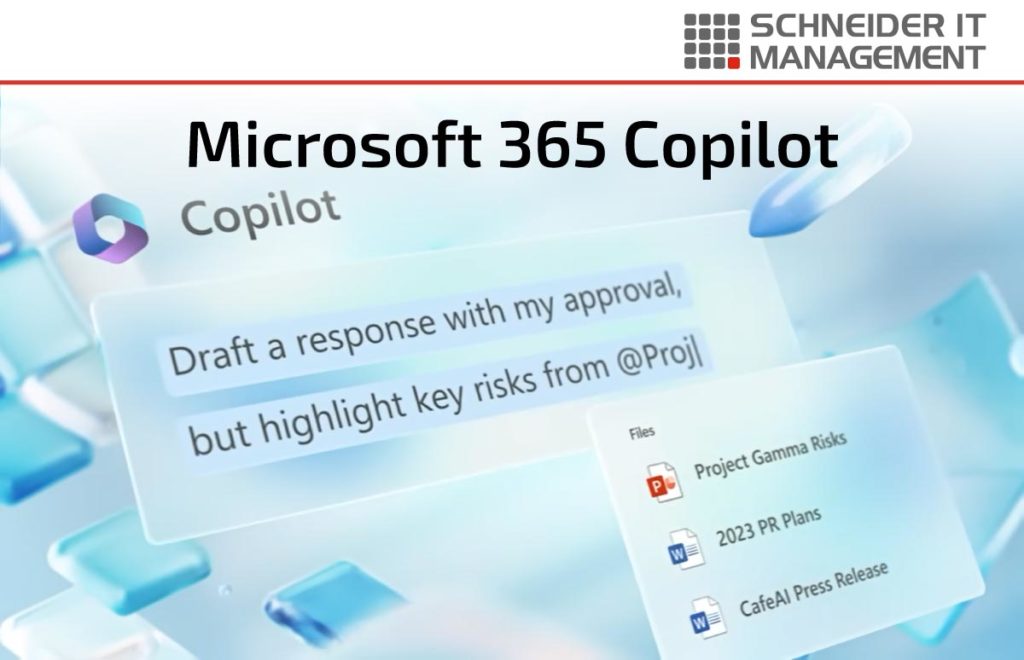 Microsoft 365 Copilot: Release date
Microsoft announced the private preview of Microsoft 365 Copilot on March 16, 2023. Private previews are currently limited and not open for nominations. There is no official release date yet. We expect it to be officially released later in 2023, with a public preview phase in between.
Microsoft 365 Copilot: Licensing
Microsoft 365 E3/E5 or Microsoft 365 Business Standard/Business Premium will be a licensing requirement for these AI capabilities in the future. Microsoft will announce pricing and licensing details in the coming months.
Microsoft 365 Copilot: Privacy
Will Microsoft 365 Copilot be trained with customers' data?
No. Microsoft has made it clear that Copilot does not utilize customer data, including prompts, for the purposes of training or enhancing their models. They are of the belief that customers' data belongs solely to the customer and therefore maintain the guarantees they have always made regarding the security and privacy of enterprise and commercial data, even in the age of AI.
Where does user's data go and what does Microsoft see?
Microsoft's dedication to data security and privacy within the enterprise remains unaltered, and Copilot automatically inherits the customers' security, compliance, and privacy regulations for Microsoft 365.
Any information entered by a user, as well as the data retrieved from the prompts, and the resulting responses are kept within the Microsoft cloud. This is in accordance with Microsoft's existing data security commitments. Find more info in the link section below.
Conclusion
Microsoft 365 Copilot embodies the integration of AI into Microsoft 365. By integrating LLMs with data in the Microsoft Graph and the Microsoft 365 apps, Microsoft 365 Copilot will help users complete tasks more efficiently and effectively. Although we are still waiting for an official release date, the tool is set to launch later in 2023, with a preview phase in between. We update you as soon as an official release date is given.
Please contact us for free expert consultancy on your specific Microsoft agreements, more information and to request a quote.
More information
For a short introductory video on Microsoft 365 Copilot, please visit: https://www.youtube.com/watch?v=S7xTBa93TX8.
For the full presentation of new AI within the Microsoft environment, please visit: https://www.youtube.com/watch?v=Bf-dbS9CcRU.
For Microsoft's privacy policy and service documentation, please visit: https://privacy.microsoft.com/en-us/privacystatement.
For more information on Microsoft licensing for organizations, please visit: https://www.schneider.im/software/microsoft/.