Effective June 1, 2023, Microsoft Defender for IoT (Internet of Things) moves to the licensing model of site licenses. The previous Azure consumption model for this solution is no longer available for purchase by new customers. Existing customers can choose to transition to site-based licensing or remain on the consumption model. This licensing model is tailored for organizations safeguarding their Operational Technology (OT) ecosystems.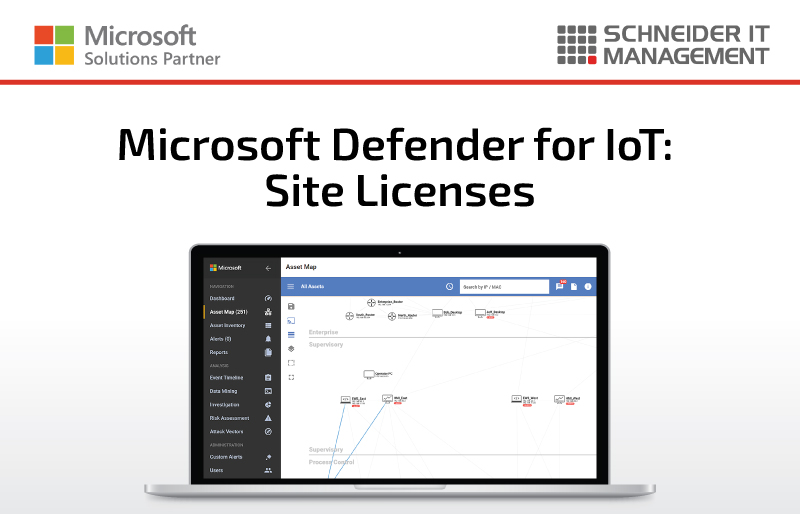 Microsoft Defender for IoT: What is it?
Microsoft Defender for IoT supports enterprise and industrial IoT devices, including industrial control systems (ICS) and operational technology (OT). These devices can be secured using passive, agentless monitoring or an agent if the device manufacturer includes it in the build.
Site Licenses: What are they?
Site licenses are designated for physical locations such as office buildings, hospitals, rigs, and similar sites. The tiered structure offers versatility based on device quantity: Extra Small (up to 100 devices), Small (up to 250 devices), Medium (up to 500 devices), Large (up to 1,000 devices), and Extra Large (up to 5,000 devices).
Site Licenses: Pricing
Organizations have the option to acquire annual licenses at standard rates, determined by the highest count of OT devices to be safeguarded per distinct site. Pricing remains uniform for each site category and is not calculated proportionally according to device counts. Site categorization is contingent on the upper limit of devices allowed per site.
Site Licenses: Procurement and Management
Customers can buy and manage these site licenses via the Microsoft 365 Admin portal, subsequently integrating them into an Azure Subscription within the Azure Management Portal. This strategic shift aims to streamline licensing and enhance protection for IoT environments in a more tailored and efficient manner.
More information
For the announcement of Site Licenses for Microsoft Defender for IoT, please visit: https://techcommunity.microsoft.com/t5/microsoft-defender-for-iot-blog/microsoft-defender-for-iot-moves-to-site-based-licensing-for/ba-p/3843302.
For information on how to purchase and manage the license, please visit: https://learn.microsoft.com/en-us/azure/defender-for-iot/organizations/how-to-manage-subscriptions.
For useful software licensing information on Microsoft licensing programs, please visit: https://www.schneider.im/software/microsoft/.
Please contact us for free expert consultancy on your specific Microsoft agreements and to request a quote.