Announced March 6, 2023, Conversation boosters with GPT will be integrated into Microsoft Power Virtual Agents and is currently in preview.
Power Virtual Agents: What is it?
Power Virtual Agents is the low-code approach to building chatbots with an intuitive visual drag-and-drop approach that vastly simplifies bot creation, all backed with a code experience, if needed (preview). Like most industry bot tools, it has relied on the maker to create conversation topics and configure dialog flows. But that is about to change with the new conversation booster capability in Power Virtual Agents.
Conversation boosters in Power Virtual Agents: What does it do?
Until now, when a chatbot encountered an untrained question or response, it could only respond in two ways – ask the user to rephrase or offer to connect to a human agent. However, with the power of next-generation AI, bots can now connect to current and useful data sources, such as internal and external company websites, to construct a response in real-time. This means that bots can provide answers based on information found on your site, without requiring the authoring of a single topic or spending additional development cycles.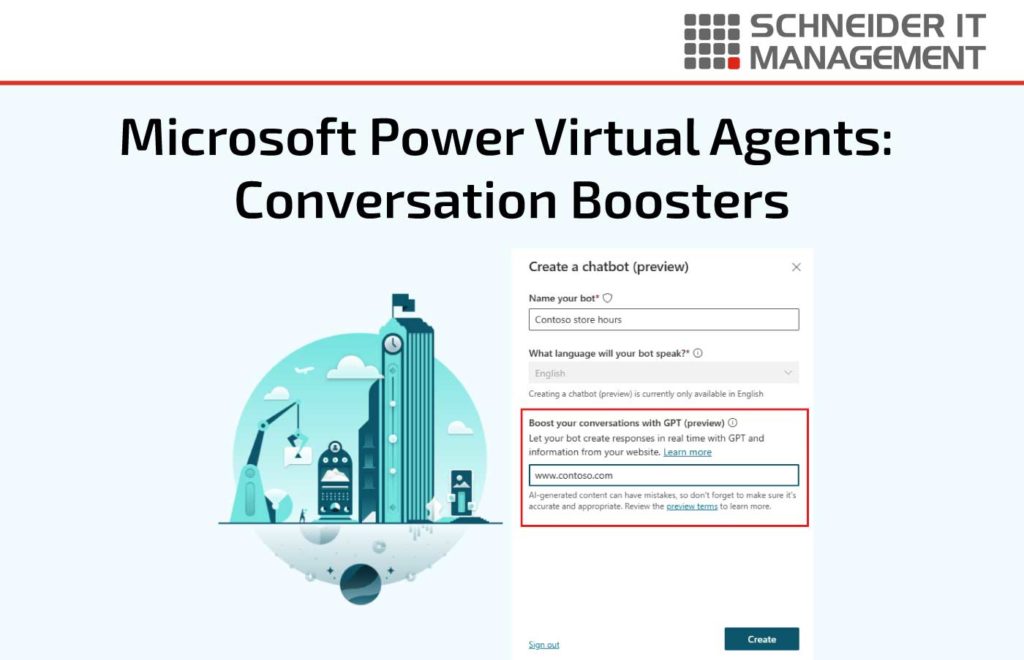 Conversation boosters in Power Virtual Agents: Application Examples
Here are a few examples of how organizations can put the conversation booster to work:
A retail company can build a bot to answer seasonal job posting questions by pulling existing content on the recruitment process and company values.
A technology company can quickly connect a bot to various product support knowledge bases and FAQs, providing support to customers without writing any code.
A media company can build an employee bot to resolve common HR queries about performance reviews, bonuses, and policies based on existing policy documentation.
Conversation boosters in Power Virtual Agents: Availability
Conversation boosters in Power Virtual Agents is currently in preview and rolling out gradually. It may not be available in your region yet.
Conclusion
In conclusion, Microsoft's Conversation boosters in Power Virtual Agents provides a new level of AI capabilities to chatbot creation, making it easier for developers to create bots that can answer questions from various data sources. This innovation will help companies provide more efficient customer service and boost employee productivity.
Please contact us for free expert consultancy on your specific Microsoft agreements, more information and to request a quote.
More information
For the announcement, please visit: https://cloudblogs.microsoft.com/powerplatform/2023/03/06/build-solutions-faster-with-microsoft-power-platform-and-next-generation-ai/.
For more information on Conversation boosters, please visit: https://learn.microsoft.com/en-us/power-virtual-agents/nlu-boost-conversations.
For more information on Microsoft licensing for organizations, please visit: https://www.schneider.im/software/microsoft/.