Effective August 1, 2023, users with specific licenses may run Microsoft 365 Apps for enterprise/business, Microsoft Project, and Microsoft Visio on Amazon WorkSpaces.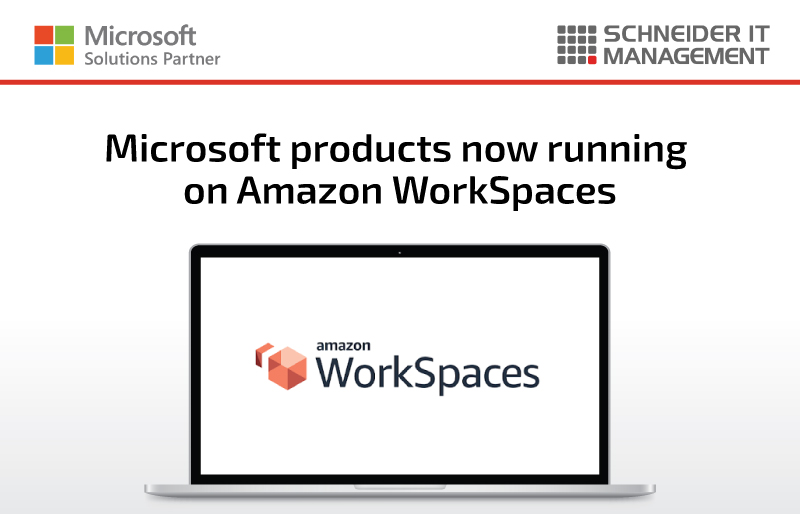 Eligibility requirements
The eligible licenses under this revised policy include Microsoft 365 E3/E5/A3/A5 and Microsoft 365 Business Premium. If you currently have any of these licenses, starting from August 1, 2023, you will be able to utilize these Microsoft applications on Amazon WorkSpaces virtual desktop infrastructure.
Supported Amazon WorkSpaces
Supported WorkSpaces instances include those with Windows Server and Bootstrap Your Own Latent (BYOL) Windows Desktop operating systems running on dedicated instances.
Eligible Microsoft applications
Eligible applications include Microsoft Word, Microsoft Excel, Microsoft PowerPoint, Microsoft Outlook, Microsoft OneDrive, and other apps that are available in your Microsoft 365 E3/E5/A3/A5 and Microsoft 365 Business Premium licenses. Customers using Microsoft 365 Apps on WorkSpaces services can also bring licenses to install and use additional Microsoft applications including Microsoft Project, Microsoft Visio, and Microsoft Power Automate.
More information
For the announcement of Microsoft products now running on Amazon WorkSpaces, please visit: https://aws.amazon.com/about-aws/whats-new/2023/08/amazon-workspaces-microsoft-365-apps/.
For a Microsoft 365 E3/E5 comparison, please visit: https://www.microsoft.com/en-us/microsoft-365/enterprise/microsoft365-plans-and-pricing, and ask SCHNEIDER IT MANAGEMENT as your expert consultant on Microsoft and AWS licensing for organizations.
For useful software licensing information on Microsoft licensing programs, please visit: https://www.schneider.im/software/microsoft/.
Please contact us for free expert consultancy on your specific Microsoft agreements and to request a quote.