Until March 31, 2024, save 50% on Microsoft Viva Workplace Analytics and Employee Feedback (aka. Viva Insight mini suite), compared to the list price.
This exclusive offer is available through Enterprise Agreements (EA) for customers globally.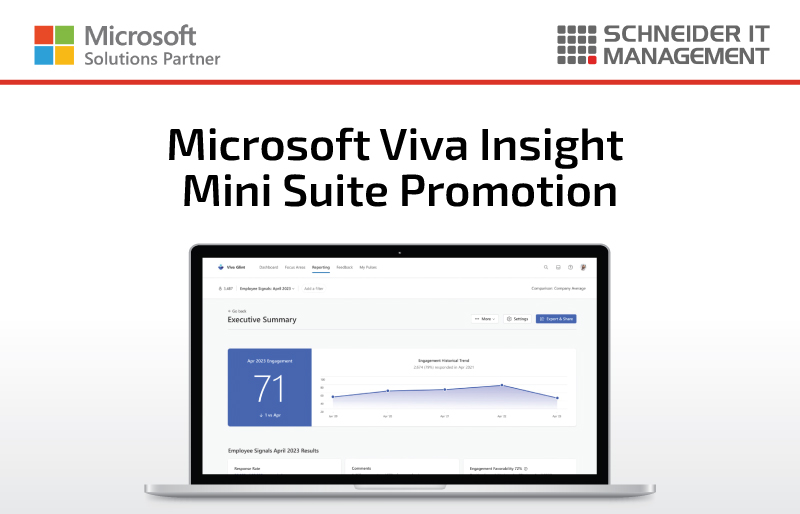 Promotion Details:
Discount: Enjoy a substantial 50% off the list price of the Viva Insight Mini Suite.
Duration: This promotion is valid from September 1, 2023, to March 31, 2024.
Eligibility: Exclusively available to EA-only customers via SCHNEIDER IT MANAGEMENT.
Unlock Insights with Viva Insight Mini Suite
Viva Insight Mini Suite is a part of Microsoft Viva, an employee experience platform that helps people and teams to be their best from anywhere. Viva Insight Mini Suite consists of Viva Insights, Viva Glint and Viva Pulse. Viva Insights helps employees improve their own work habits and well-being, while Viva Pulse and Viva Glint helps managers get feedback and improve their team's performance.
Viva Insights
Viva Insights provides personal and organizational insights to help employees improve their well-being, productivity, and collaboration. Personal insights are available to Microsoft 365 users without requiring a separate Viva Insights license. Premium personal insights, manager insights, and leader insights, as well as advanced insights, are available to users with a Viva Insights license.
Viva Glint
Viva Glint is a tool that helps organizations measure and improve employee engagement and performance. It allows managers and leaders to collect feedback from employees through surveys, analyze the results, and take action based on the insights. Viva Glint also integrates with Viva Insights to provide a holistic view of the employee experience.
Viva Pulse
Viva Pulse is an employee feedback tool that allows managers and leaders to request feedback day-to-day from their teams using brief surveys in Microsoft Teams and on the web. The feedback results are confidential and provide insights and suggestions for improving the team's well-being, productivity, and collaboration.
Reach out to SCHNEIDER IT MANAGEMENT today to unleash your organization's full potential with the Microsoft Viva Insight mini suite at 50% discount.
More information
For the product page of Microsoft Viva, please visit: https://www.microsoft.com/en-us/microsoft-viva.
For useful software licensing information on Microsoft licensing programs, please visit: https://www.schneider.im/software/microsoft/.
Please contact us for free expert consultancy on your specific Microsoft agreements and to request a quote.