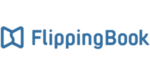 FlippingBook is a company that provides software and cloud service for creating professional online documents. They provide products that help businesses get more from their digital content by making it accessible, comfortable to read, and interactive. Their software converts PDFs into interactive HTML5 publications and hosts these publications online.
FlippingBook has two main products: FlippingBook Online and FlippingBook Publisher.
FlippingBook Publisher was launched in 2011 and is a browser-based service that enhances appearances of printable documents.
FlippingBook Online was launched in 2016. It is a powerful desktop software tool for Windows, often used by marketing, sales, and HR teams. It enables you to deliver your newsletters, ebooks, and brochures in an interactive format that will engage your audience.Founded in 2004, FlippingBook Limited has its headquarters in Cospicua (Bormla) on the island of Malta.