Oracle is one of the largest software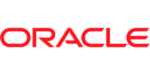 companies worldwide.
The enterprise software company offers a range of cloud-based applications and platforms as well as hardware and services to help companies improve their processes. Oracle's applications consist of Enterprise Resource Planning (ERP), Enterprise Performance Management (EPM), Supply Chain & Manufacturing (SCM), Human Capital Management (HCM), Customer Experience (CX) enhancement, data management, business analytics, IT operations management, security, emerging technologies and more.
In recent years, Oracle has significantly expanded its online services offerings. The company's mainstay product has been Oracle Database, one of the most popular corporate database offerings.
Oracle Corporation has its headquarters in Austin, Texas and was founded in 1977.
We are Oracle Gold Partner.

Links