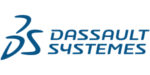 Dassault Systèmes (DS) is a french software development company for Product-Lifecycle-Management (PLM) solutions.
Dassault Systèmes has created CATIA, a market-leading CAD/CAM application and belongs to the Dassault Group.
In the course of the company history, additional software systems from other branches of industrially used software were integrated into the product portfolio of Dassault Systèmes. On this basis the company has developped the following brands:
CATIA as a 3D CAD/CAM software for integrated product design
DELMIA as a solution for the digital production planning and simulation and the planning protection
ENOVIA as a PDM system
3DVIA for setting up interactive 3D contents
Exalead for data searching and search-based applications
Netvibes as a homepage service
SIMULIA as a platform for FEM simulations (f.i. Abaqus)
SolidWorks for mechanical 3D design.
For many years, IBM and its partners were distributing the Dassault Systèmes products exclusively. However, since 2005 Dassault Systèmes has its own distribution network. In 2010, Dasault Systèmes took over the Product-Lifecycle-Management branch of IBM.
In 2006 Dassault Systèmes expanded its solution spectrum to 11 industrial sectors; as well, the target groups within the different sectors were gradually enlarged: according to the company's vision  "3D for all", Dassault Systèmes creates 3D applications for all participants of the product development: from the designer and the constructor to the marketing, distribution and service staff.
Founded in 1981, Dassault Systèmes SE has its headquarters in Vélizy-Villacoublay, France.