ESET began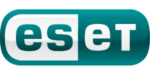 life as a pioneer of antivirus protection, creating award-winning threat detection software.
Today, ESET's security solutions allow businesses and consumers in more than 200 countries and territories to make the most of the digital world. ESET enables its users to enjoy the full potential of themselves and their technology in a secure digital world.
Working with ethical and passionate people, ESET builds a safer technology environment for everyone to enjoy. They are doing this through education and commitment to research and development.
ESET offers the following 3 main solutions:
1. Antimalwares
Offering cybersecurity for several types of machines:
ESET Endpoint Security for the workstations (Windows, Mac, Linux)
ESET File Security for file servers (Windows, Linux)
ESET Endpoint Security for Android, for Android devices
ESET Mail Security for mail servers (Exchange, Linux, IBM Domino)
These products can be centrally managed from one single console: ESET Management Security Center. This is the management console which allows you to customize and automate the security of your network thanks to task, policies, dynamic groups, etc. The console also allows you to get reporting data from your network activity.
2. Encryption
ESET Endpoint Encryption is the encryption solution which allows full disk encryption, virtual disk encryption, file/folder encryption as well as USB drives encryption.
The solution also comes with an administration server side which can be used to manage encryption key sharing and users. This admin server provides logs which are considered as a legal proof in regard of GDPR.
3. Authentication (2FA)
ESET Secure Authentication is ESET's 2-factor authentication solution that can secure RDP sessions, VPN accesses, Exchange, Windows sessions, RADIUS services, etc. It uses smartphones as authentication devices with a unique mobile app. It is also compatible with hard tokens and SMS if needed.
Founded in 1992, ESET has its headquarters in Bratislava, Slovakia.
For more information, please visit: enjoysafertechnology.com.
If you are interested in purchasing ESET software from SCHNEIDER IT MANAGEMENT, please contact us for a price quotation.