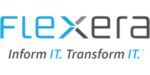 Flexera helps companies that sell software through subscriptions manage their accounts. Flexera is a provider of IT services including software security, cloud management and software-as-a-service management. The company specializes in software license optimization, software entitlement management, application packaging, electronic software delivery, enterprise app stores, software vulnerability management and application readiness.
Flexera delivers IT management solutions that enable enterprises to accelerate the return on their technology investments. Flexera helps organizations provide their IT with total visibility into complex hybrid ecosystems, so they can transform their IT by rightsizing across all platforms, reallocating spend, reducing risk and charting the most effective path to the cloud.
Founded in 1987, Flexera has its headquarters in Itasca, Illinois.