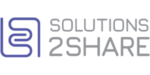 Solutions2Share is a software developer based in Germany, whose apps have already been installed by 40,000 companies worldwide and used by more than 1.5 million users. Among Solutions2Share's products are Teams Manager and External User Manager, which make it easier for IT administrators to manage Microsoft Teams.
With these apps for Microsoft Teams, we expand our product portfolio for managing and governing Microsoft Teams. We are also working together with Solutions2Share to support our customers in the introduction of the products, whether as SaaS or installed on their own servers, and in the strategic conception of security, structure, and governance.
You can find Solutions2Share's home page here: https://www.solutions2share.com
We are Solutions2Share Partner.