TeamViewer is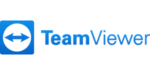 a sophisticated remote access and remote-control software, allowing maintenance of computers and other devices. TeamViewer™ is a leading brand for remote connectivity solutions based on cloud technologies. Through innovations in technology and an incredibly fast and secure global network, TeamViewer™ is making the world a smaller place – paving the path towards a truly global workspace.
Easy & Secure Remote Desktop Access
TeamViewer™ allows users to remotely access and control the desktop of their computers and servers from anywhere, on a 3G or better internet connection. This access is device agnostic and completely secure. Any modern smartphone can be the window to any workplace.
World's Favorite Remote Support Solution
Computer glitches, system crashes, and device failures can bring business to a standstill. Instead of making onsite service calls that take time and increase costs, IT pros choose TeamViewer™ to provide instant and secure remote support for their clients anywhere, at any time.
Business Collaboration
Unlike standalone collaboration tools, TeamViewer's all-in-one approach ensures that users have everything they need for both effective communication and collaborative working in one convenient package.
Enterprise SaaS, IoT and augmented reality
Thanks to its unique scalable infrastructure, TeamViewer™ also provides a cloud-based enterprise connectivity platform with an added security layer enabling large-scale IT management framework deployments quickly and easily.
By innovating with cutting-edge yet easy-to-deploy Augmented Reality (AR) and Internet of Things (IoT) implementations, the company enables businesses of all sizes to tap into their full digital potential.
Founded in 2005, TeamViewer AG has its headquarters in Germany.
If you are interested in purchasing TeamViewer™ software from SCHNEIDER IT MANAGEMENT, please contact us for a price quotation.