Thycotic protects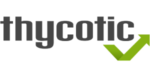 companies from cyber-attacks by developing innovative technologies that secure privileged accounts across the modern enterprise.
Thycotic's cyber security software prevents cyber attacks by securing passwords, protecting endpoints and controlling access.
Secure Passwords
Secret Server gives you the simplest, easiest, and most affordable way to discover, secure and manage privileged account passwords across your enterprise.
Protect Endpoints & Control Access
Privilege Managers for Windows & Unix protect endpoints from malware and enforce least privilege policies to shield applications and Unix systems from malicious access.
Endpoint Privileged Access Security (EPAS) Suite
A combination of Secret Server, Privilege Manager for Windows, and Privilege Manager for Unix enables you to secure passwords, protect endpoints, and control access.
Founded in 1996, Thycotic has its headquarters in Washington, United States.
More information can be found here: https://thycotic.com/why-thycotic/cyber-security-software/
Thycotic is now Delinea! https://delinea.com/