As announced on May 26, 2022, Broadcom acquires cloud computing company VMware. On October 30, 2023, Broadcom and VMware provided an update on the pending transaction. They announced their expectation that Broadcom's acquisition of VMware (the "Transaction") will close soon, but in any event prior to the expiration of their merger agreement.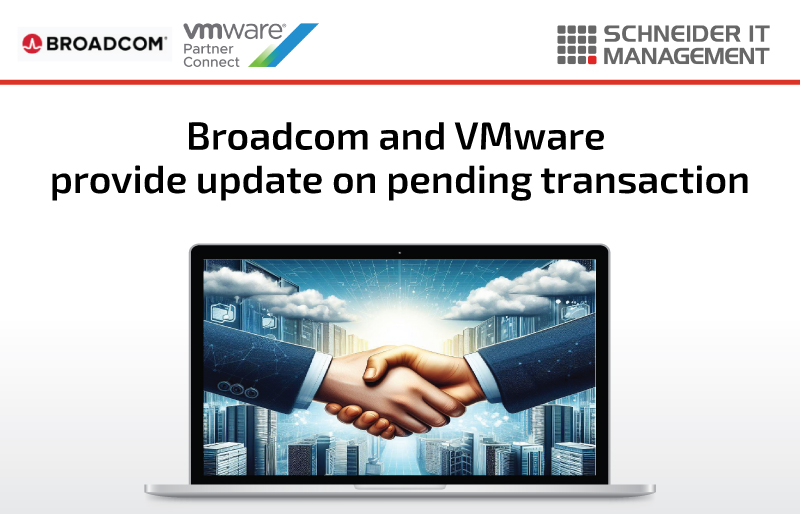 About Broadcom
Broadcom is a global technology leader that designs, develops and supplies a broad range of semiconductor and infrastructure software solutions. Broadcom's category-leading product portfolio serves critical markets including data center, networking, enterprise software, broadband, wireless, storage and industrial. Their solutions include data center networking and storage, enterprise, mainframe and cybersecurity software focused on automation, monitoring and security, smartphone components, telecoms and factory automation.
About VMware
VMware is a leading provider of multi-cloud services for all apps, enabling digital innovation with enterprise control. As a trusted foundation to accelerate innovation, VMware software gives businesses the flexibility and choice they need to build the future.
More information
For the official announcement, please visit: https://investors.broadcom.com/news-releases/news-release-details/broadcom-and-vmware-provide-update-pending-transaction
For our vendor page of VMware, please visit: www.schneider.im/software/vmware.
Please contact us for free expert consultancy on your specific Broadcom and VMware software and online services requirements and to request a quote today.