Effective July 1, 2023, the Microsoft SharePoint Syntex per-user license will move to end-of-sale status. Microsoft SharePoint Syntex Pay As You Go (PAYG) remains in place.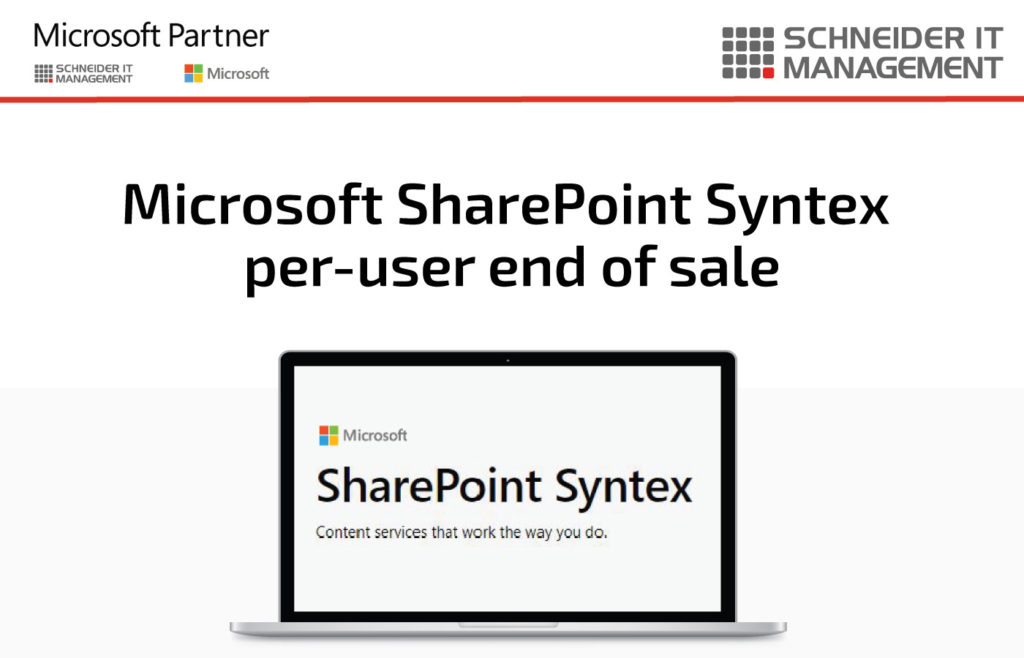 The following capabilities of the SharePoint Syntex per-user license will become available to all Microsoft 365 E3, E5, A3, and A5 users:
Content Query – filter large libraries with custom metadata in a form-based interface.
Universal Annotation – add ink, comments, @mentions and more to many additional file types (more than just Office) supported by the file viewer
Accelerators – easily apply solution templates for common scenarios like contract management and accounts payable.
Taxonomy Services – admin reporting on term set usage and easy import from Simple Knowledge Organization System (SKOS)-formatted taxonomies.
Rules – lightweight automation for common operations like file alerts, copies and moves.
After Microsoft retire the SharePoint Syntex per-user license on July 1, 2023, they transition the remaining functionality not detailed in the list above fully to the pay-as-you-go model with Microsoft Syntex.
Customers will have access to per-user features throughout the term of their agreement, after which they'll need to associate their Azure subscription with their Microsoft 365 tenant to use consumption services.
More information
For the announcement and more information, please visit: https://techcommunity.microsoft.com/t5/microsoft-syntex-blog/microsoft-recognized-as-a-leader-in-forrester-wave-for-content/ba-p/3798091.
For an article about Microsoft SharePoint Syntex pay-as-you-go, please visit: https://www.schneider.im/microsoft-syntex-pay-as-you-go-payg-available/.
For useful software licensing information on Microsoft products, please visit: https://www.schneider.im/software/microsoft/.
Please contact us for free expert consultancy on your specific Microsoft agreements, more information and to request a quote.