Microsoft 365 Copilot
On November 1, 2023, Microsoft 365 Copilot will become generally available to enterprise customers. Microsoft 365 Copilot will be available for 30 EUR as an add-on license to Microsoft 365 E3 or E5 with a minimum of 300 users. Microsoft 365 Copilot will be available in Cloud Solution Provider (CSP) in a few months and there are also no trial licenses available.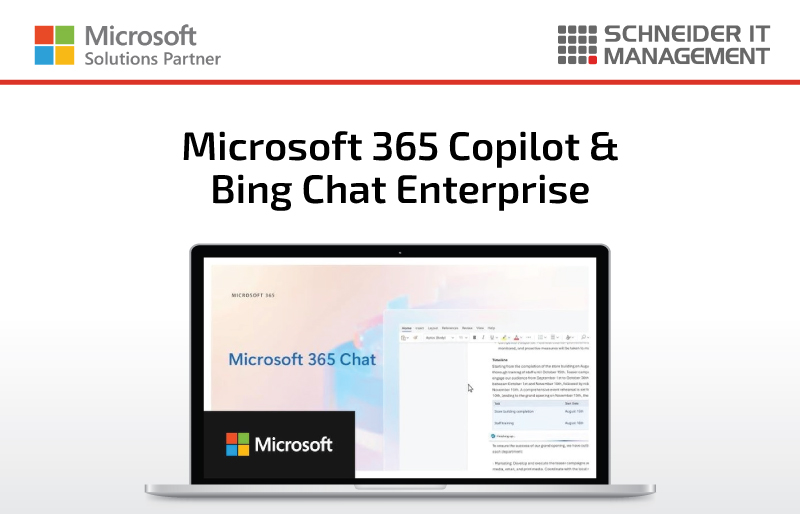 Comparison of Microsoft Copilot, Bing Chat Enterprise and Microsoft 365 Copilot
Microsoft's AI capabilities come in various forms. One of the features that sets Microsoft 365 Copilot apart is its integration with Microsoft 365 suite of products and services.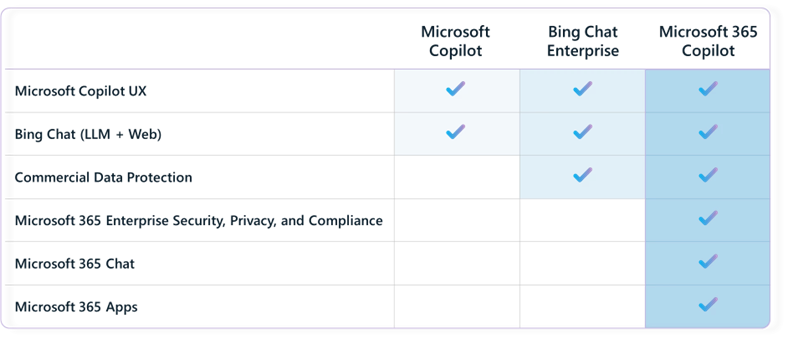 Microsoft 365 Chat
With Microsoft 365 Copilot, Microsoft 365 Chat will come as a new flagship feature. Microsoft 365 Chat is your comprehensive work assistant, capable of navigating through your work-related data, including emails, meetings, chats, documents, and web content. With a deep understanding of your role, priorities, and organization, it goes beyond answering simple queries, helping you tackle complex tasks effectively.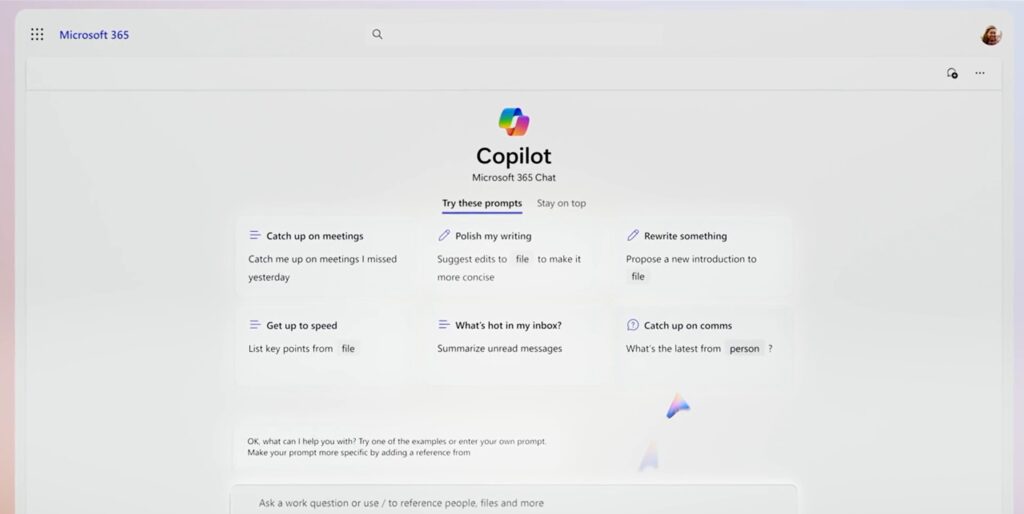 Microsoft Copilot: Your Everyday AI Companion
Starting September 26, 2023, Microsoft Copilot begins to roll out as part of a free update to Windows 11. Microsoft Copilot is the culmination of Microsoft's new AI capabilities, creating a unified AI experience designed to simplify user's daily tasks. From AI-enhanced drawing in Paint to intelligent photo editing in Photos, the update brings practical AI to familiar applications. This companion seamlessly integrates web intelligence, your work data, and your real-time PC activities.
This experience is accessible across various Microsoft platforms, including Windows 11, Microsoft 365, and through web browsers like Edge and Bing. Copilot adapts to your needs, functioning as an app or effortlessly revealing itself with a simple right-click.
Microsoft Bing Chat & Bing Chat Enterprise: A More Personal Experience
Compared to Bing Chat, in Bing Chat Enterprise, user and business data is protected and chat data is not saved. Microsoft has no eye-on access to data, and chat data is not used to train the underlying models.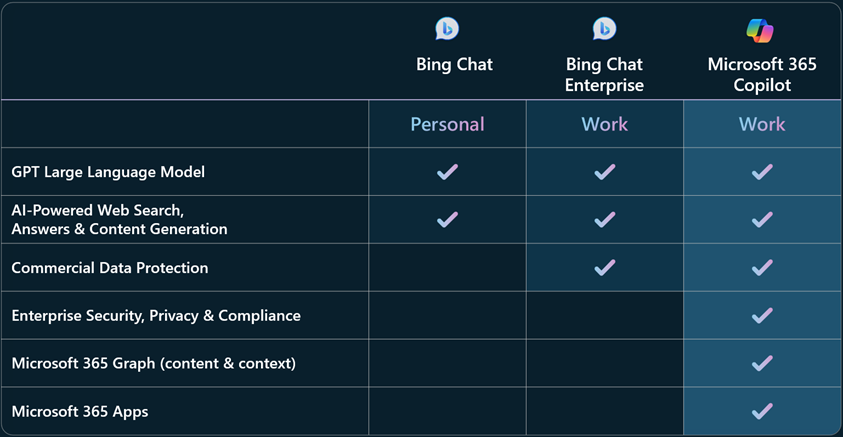 Bing Chat news
Bing Chat now offers personalized answers based on your chat history, providing more relevant results.
Bing Image Creator is integrated into Bing Chat and now leverages the powerful DALL.E 3 model from OpenAI, delivering more accurate and beautiful images.
With Content Credentials, AI-generated Bing images now use cryptographic methods to add an invisible digital watermark, enhancing their security and tracing their creation time.
Bing Chat Enterprise news
Bing Image Creator is also integrated into Bing Chat Enterprise and uses DALL.E 3 for image creation.
Bing Chat Enterprise also now uses Content Credentials for generating invisible digital watermarks.
Bing Chat Enterprise is now also available in the Microsoft Edge mobile app.
Multimodal visual search is available.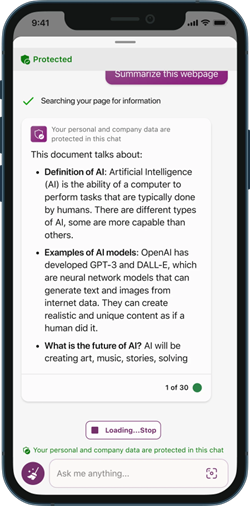 Microsoft Copilot Lab: Learn to use prompts
With Copilot Lab, you learn to write great prompts that do exactly what you want. You can share your favorite prompts with coworkers and get inspired by lots of prompt templates. This way, you maximize your effectiveness with the new Microsoft 365 Copilot. Copilot Lab will be integrated into Microsoft 365 Copilot and accessible via a website to all Microsoft 365 Copilot users.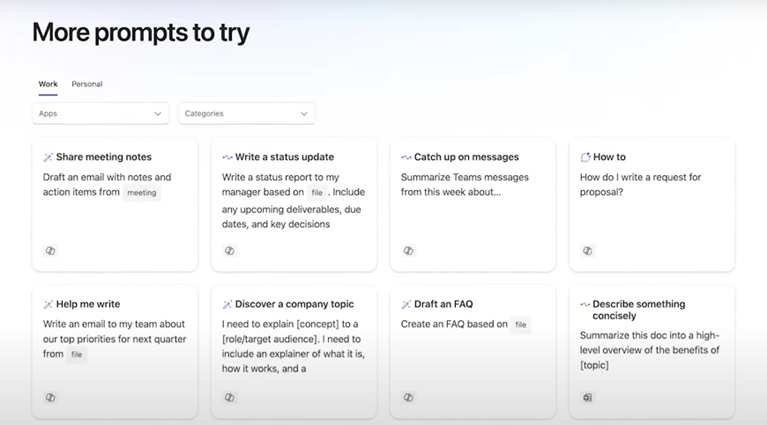 More information
For the recent announcement article, please visit: https://blogs.microsoft.com/blog/2023/09/21/announcing-microsoft-copilot-your-everyday-ai-companion/.
For another announcement article, please visit: https://www.microsoft.com/en-us/microsoft-365/blog/2023/09/21/announcing-microsoft-365-copilot-general-availability-and-microsoft-365-chat/.
For a complete article on Microsoft 365 Copilot, please visit: https://www.schneider.im/microsoft-365-copilot-the-future-of-productivity/.
For our vendor page of Microsoft, please visit: https://www.schneider.im/software/microsoft/.
Please contact us for free expert consultancy on your Microsoft software and Online Services needs, and to request a quote today.