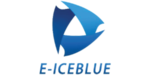 E-iceblue Co., Ltd. is a vendor of .NET, Silverlight and WPF development components. The goal of e-iceblue is always to offer high-quality components for reading and writing different formats of Office files.
Spire.Presentation for .NET is a professional PowerPoint® compatible component that enables developers to create, read, write, modify, convert and print PowerPoint documents from any .NET(C#, VB.NET, ASP.NET) platform. As an independent PowerPoint .NET component, Spire.Presentation for .NET doesn't need Microsoft PowerPoint to be installed on the machine.
Spire.Presentation for .NET supports PPT, PPS, PPTX and PPSX presentation formats. It provides functions such as managing text, image, shapes, tables, animations, audio and video on slides. It also supports exporting presentation slides to EMF, JPG, TIFF, PDF format etc.
Spire.Office for .NET is a compilation of Enterprise-Level Office .NET components. It includes Spire.Doc, Spire XLS, Spire.Presentation, Spire.PDF, Spire.DataExport, Spire.PDFViewer, Spire.DocViewer, and Spire.BarCode. Spire.Office for .NET contains the most up-to-date versions of the above .NET components.
With Spire.Office for .NET, developers can create a wide range of applications. It enables developers to open, create, modify, convert, print and view MS Word, Excel, PowerPoint and PDF documents. Furthermore, it allows users to export data to popular files such as MS Word/Excel/RTF/Access, PowerPoint, PDF, XPS, HTML, XML, Text, CSV, DBF, Clipboard, SYLK, etc.  As an independent Office .NET component, Spire.Office doesn't need Microsoft Office to be installed on the system. In addition, it is a better alternative to MS Office Automation in terms of security, stability, scalability, speed, price and features.  Spire.Office for .NET can be linked into any type of a 32-bit or 64-bit .NET application including ASP.NET, Web Services and WinForms for .NET Framework version from 2.0 to 4.5.
Founded in 2008, E-iceblue has its headquarters in Sichuan, Gansu, China.