KingswaySoft is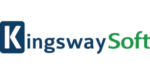 a leading provider of data integration solutions offering SQL server-based data integration & migration and real-time integration.
KingswaySoft is specialized in creating quality integration solutions that are cost effective and easy to use. Organizations from more than 40 countries rely on their data integration solutions to deliver their business data efficiency.
The KingswaySoft people are extremely passionate about their software quality and are very committed to the success of their clients worldwide. KingswaySoft's development process has always been customer-focused; they have been working very closely with their customers to deliver what benefits them most, and they also guarantee the high responsiveness of their support services to make sure that customers receive maximum benefit from the use of Kingsway Soft's products.
At KingswaySoft, people strongly believe that professional software should be easy to use, simple to learn, pleasant to work with, and intuitive enough to help customers be smart and productive. KingswaySoft takes extreme pride in its work, and its goal is to make the customer happy and successful.
With years of software development experience, KingswaySoft strives to provide you with quality software products that you can use with great confidence.
Currently KingswaySoft focusses on delivering cost-effective data integration libraries for Microsoft SQL Server Integration Services (SSIS).
Three main connectors currently on offer are:
Founded in 2011, KingswaySoft has its headquarters in Oakville, Ontario, Canada.