Since September 13, 2023, Adobe GenStudio for Enterprises is available and part of Firefly for Enterprise. Read the full Adobe GenStudio for Enterprises whitepaper.
What is Adobe GenStudio for Enterprises?
Adobe GenStudio for Enterprises is a new solution that brings together content ideation, creation, production, and activation within the enterprise content supply chain. This integration harnesses the capabilities of generative AI to enhance the content creation process.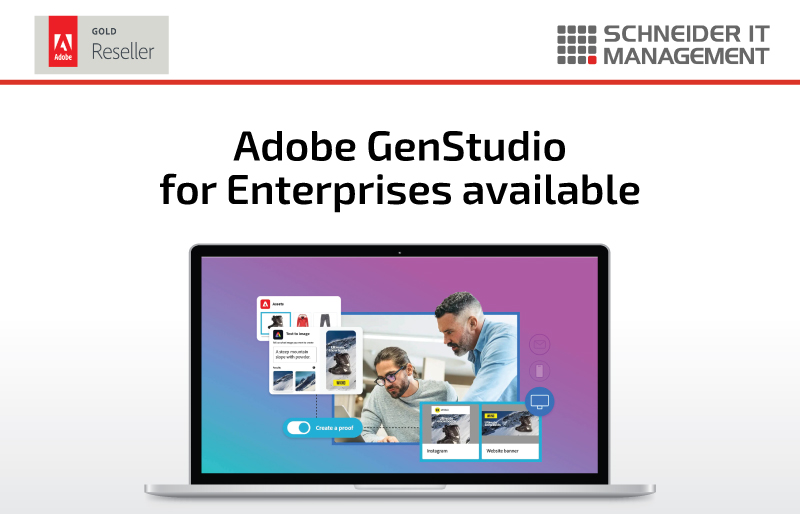 Adobe GenStudio for Enterprises: Main benefits
Adobe GenStudio for Enterprises offers organizations a range of compelling advantages:
Efficiency in Content Creation: GenStudio accelerates content creation, saving time and resources while boosting content quality and marketing effectiveness.
Tailored Branding and Engagement: Customers can harness generative AI to personalize content, strengthening their brand identity, enhancing engagement, and nurturing customer loyalty.
IP Indemnity for Security: Adobe provides Intellectual Property (IP) indemnity for most GenStudio-generated content, ensuring commercial safety and minimizing legal risks, a valuable safeguard for enterprises.
Seamless Integration: GenStudio seamlessly integrates with Adobe's suite of solutions, spanning Creative Cloud, Express, and Experience Cloud, delivering a comprehensive toolkit for ideation, creation, production, activation, and optimization.
Dedicated Support: With 24/7 technical support, a dedicated customer success manager, and access to beta features and feedback channels, organizations receive assistance in maximizing the potential of GenStudio and addressing any queries or challenges they encounter.
Adobe GenStudio for Enterprises: Features
GenStudio is a revolutionary platform that harnesses the power of generative AI for content creation. It enables businesses to use Firefly, a suite of creative generative AI models, to produce high-quality and commercially safe content in various formats. With GenStudio, businesses can:
Create content that is safe for commercial use. Firefly models are designed to generate content that does not infringe any intellectual property or ethical standards, ensuring that businesses can use the content without any legal or reputational risks.
Customize models using their own assets and brand-specific content. Firefly models can be fine-tuned and adapted to match the style and identity of a brand, allowing businesses to generate on-brand content with just a few clicks.
Access Firefly APIs across various platforms. Firefly models can be integrated with different platforms and tools, such as Creative Cloud and Experience Cloud, to supercharge workflows and automations. This allows businesses to optimize and accelerate their content supply chain and deliver personalized customer experiences across any channel.
Connect AI-generated content to critical services. Firefly models can seamlessly connect with services such as editing, collaboration and activation, enabling businesses to refine, share and distribute their content with ease and efficiency.
Gain deep and instant insights into content performance. Firefly models can provide analytics and feedback on how the content performs across different channels and metrics, helping businesses to measure and improve their content effectiveness and impact.
How does Adobe GenStudio for Enterprises work?
Adobe GenStudio for Enterprises employs generative AI and automation to streamline the content supply chain with these key steps, integrating various Adobe applications:
Prompt & Preferences: Begin by entering a text prompt in your chosen language and selecting the content type you need, like images or text effects. Customize preferences such as style and format.
Firefly AI: GenStudio leverages Adobe Firefly generative AI to swiftly create high-quality content based on your text prompt. Firefly utilizes safe, licensed data sources for training.
Express Editing: Refine your content effortlessly with Adobe Express, an intuitive tool for quick adjustments, filters, text, and more. Advanced editing options in Adobe Creative Cloud apps are also accessible.
Seamless Collaboration: Utilize Adobe Workfront for team collaboration, project management, feedback sharing, and content approval, all connected to enterprise data.
Content Activation: Adobe Experience Cloud enables content activation and optimization across channels. Leverage various tools like Adobe Experience Manager Sites, Campaign, Target, and Analytics.
More information
For the announcement, please visit: https://news.adobe.com/news/news-details/2023/Adobe-Unleashes-New-Era-of-Creativity-for-All-With-the-Commercial-Release-of-Generative-AI/default.aspx and https://news.adobe.com/news/news-details/2023/Adobe-Releases-New-Firefly-Generative-AI-Models-and-Web-App-Integrates-Firefly-Into-Creative-Cloud-and-Adobe-Express/default.aspx.
For the product page of Adobe GenStudio for Enterprises, please visit: https://business.adobe.com/solutions/adobe-genstudio.html.
For our vendor page of Adobe, please visit: https://www.schneider.im/software/adobe/.
Please contact us for free expert consultancy on your specific Adobe Firefly for Enterprise needs and to request a quote today.