Effective October 11, Citrix Hybrid Rights will be going End of Sale (EOS), and End of Renewal (EOR) on December 6, 2023. This concerns all net new purchases, expansions, and renewals of Citrix entitlements with Hybrid Rights. Existing customers with active Hybrid Rights subscriptions will be able to continue using them until the end of their subscription term. With this strategic move, Citrix wants to transition customers towards the Citrix Universal Subscription, providing all customers with the increased value of this new licensing model.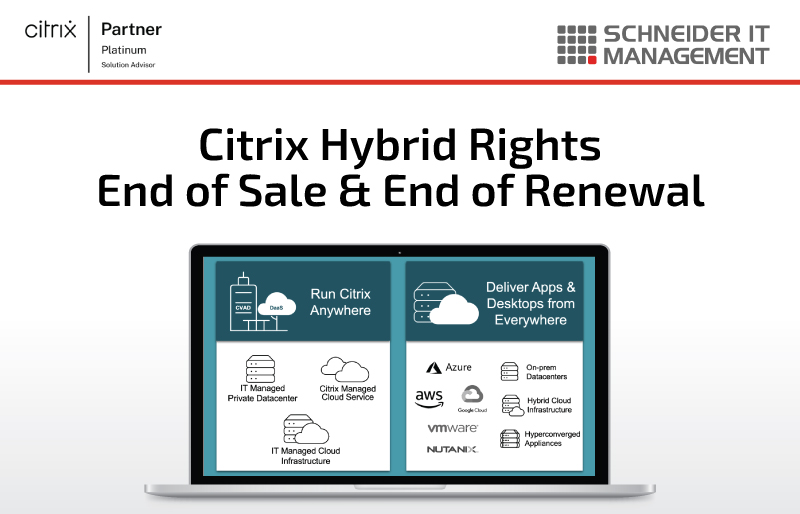 Citrix Hybrid Rights
Citrix Hybrid Rights was a licensing option that allowed customers to use both on-premises and cloud-based Citrix products with a single subscription. It was available for customers who purchased Citrix Virtual Apps and Desktops (CVAD) or Citrix DaaS services.
Citrix Universal Subscription
Citrix Universal Subscription is a new licensing model that replaces Citrix Hybrid Rights and provides more flexibility and value for customers. It allows customers to use both IT-managed CVAD and Citrix DaaS services throughout their subscription period, regardless of where they host their Citrix infrastructure or workloads.
Transitioning from Citrix Hybrid Rights to Citrix Universal Subscription
On October 11, 2023, Customers owning Citrix DaaS with Hybrid Rights will be able to transition to Citrix Universal Subscription at renewal. On December 6, 2023, Citrix DaaS assets with Hybrid Rights add-ons will be deactivated, and a new Citrix Universal License asset will be generated. Hybrid Rights add-ons may be renewed through December 6, 2023, for a customer to retain their renewal pricing. However, these assets can be transitioned to Universal Licenses at renewal.
Customers who want to transition from Citrix Hybrid Rights to Citrix Universal Subscription can do so by contacting SCHNEIDER IT MANAGEMENT. You will receive term-based on-premises licenses corresponding to the product, edition, and license model of your cloud or Universal subscription. You will also have access to all the features and benefits of both Citrix on-premises and cloud editions.
More information
For the announcement, please visit: https://support.citrix.com/article/CTX575761/end-of-salerenewal-for-citrix-daas-hybrid-rights-addon-new-purchases-expansions-and-renewals.
For the vendor page of Citrix, please visit: https://www.schneider.im/software/citrix/.
Please contact us for free expert consultancy on your transition to Citrix Universal Subscription and to request a quote.