Effective September 1, 2023, Microsoft Dynamics 365 Marketing and Customer Insights are being sold together as a single product called Microsoft Dynamics 365 Customer Insights. The original products retain their existing functionality. Dynamics 365 Marketing is now called Dynamics 365 Customer Insights – Journeys. The formerly standalone Dynamics 365 Customer Insights now is known as Customer Insights – Data.

Licensing
There is no change for existing customers, and they can choose to renew their separate licenses until August 31, 2024.
New customers have two licensing options for Customer Insights:
Attach License: This option is available if they already possess qualifying Dynamics licenses.
Standalone License: This slightly more expensive option is for customers who do not have qualifying Dynamics licenses.
Both license types for Customer Insights include the capacity for 10,000 Interacted People (formerly Marketing Contacts) and 100,000 Unified People (formerly Customer Insights Profiles). Additionally, there are capacity packs available for both Interacted People and Unified People, offered in three tiers with varying pricing.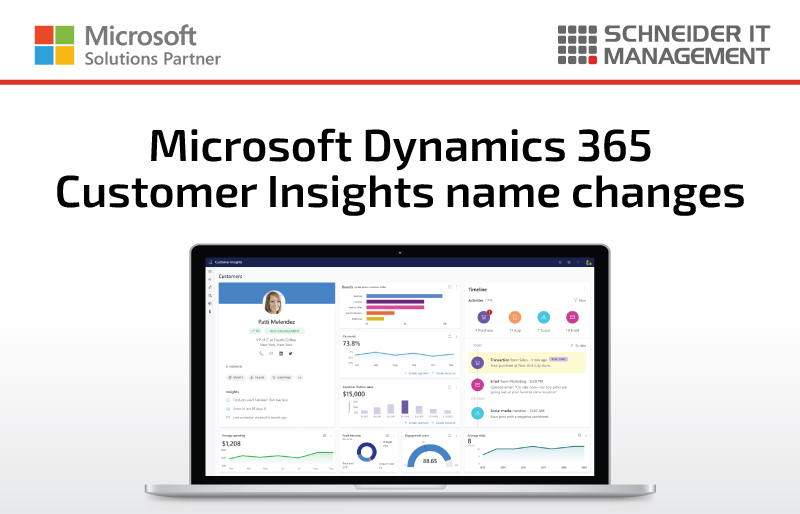 Availability
Customer Insights will be available to purchase starting September 1, 2023, through the Enterprise Agreement (EA)/Enterprise Subscription Agreement (EAS), Cloud Solution Provider (CSP), and Web Direct channels.
Updated offering regions
The updated product offering is available in the following geographies: United States, United Kingdom, United Arab Emirates, Asia Pacific, Australia, Brazil, Canada, Europe, France, Switzerland, Japan, and India.
Regions maintaining standalone offers
Germany, Korea, and South Africa, which currently only offer the standalone Customer Insights SKU, will continue to have access to the standalone (that is, separately licensed Dynamics 365 Marketing and Dynamics 365 Customer Insights) licensing model for the next contract renewal cycle.
More information
For the announcement, please visit: https://cloudblogs.microsoft.com/dynamics365/bdm/2023/09/01/now-generally-available-the-new-microsoft-dynamics-365-customer-insights/.
For a FAQ with more details on these changes, please visit: https://learn.microsoft.com/en-us/dynamics365/customer-insights/journeys/ci-faq.
For a FAQ specific to transitioning to Customer Insights – Journeys, please visit: https://learn.microsoft.com/en-us/dynamics365/customer-insights/journeys/real-time-marketing-transition.
For pricing information, qualifying licenses, and definitions, please visit: https://dynamics.microsoft.com/en-us/ai/customer-insights/pricing/.
For useful software licensing information on Microsoft licensing programs, please visit: https://www.schneider.im/software/microsoft/.
Please contact us for free expert consultancy on your specific Microsoft agreements and to request a quote.