Release Date
Effective July 18, 2023, Microsoft Viva Pulse is generally available. After its announcement on October 12, 2022, Microsoft has now included Viva Pulse in the Viva Suite.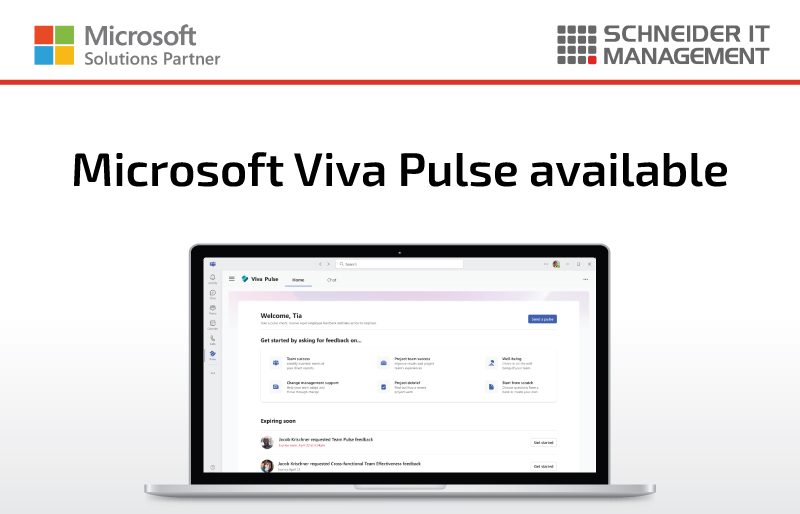 What is Microsoft Viva Pulse?
Viva Pulse is a feedback platform that lets employees give regular feedback to managers and project leaders. By facilitating the request of regular and confidential feedback, this platform enables a deeper understanding of team dynamics and requirements. This, in turn, supports a more proactive and effective approach to addressing various team needs. The integration of user-friendly interfaces within both Microsoft Teams and a dedicated web app of Viva Pulse ensures a seamless experience when conducting team and project-specific surveys.
License and Pricing
Licensing-wise, Microsoft Viva Pulse (as part of the Viva Suite) requires a Microsoft 365 or Office 365 E1/A1/G1/E3/A3/G3/E5/A5/G5, Microsoft 365 Business Basic, Business Standard, Business Premium, or Exchange Online Plan 1 or Plan 2 license.
More information
For the announcement of Microsoft Viva Pulse's general availability, please visit: https://techcommunity.microsoft.com/t5/microsoft-viva-blog/microsoft-viva-pulse-is-now-generally-available/ba-p/3876791.
For licensing information on Microsoft Viva, please visit: https://learn.microsoft.com/en-us/viva/plan-for-all-viva-modules.
For useful software licensing information on Microsoft licensing programs, please visit: https://www.schneider.im/software/microsoft/.
Please contact us for free expert consultancy on your specific Microsoft agreements and to request a quote.