Starting August 1, 2023, customers can purchase Microsoft Windows 10 IoT Enterprise LTSC 2021 through SCHNEIDER IT MANAGEMENT.
Previously, it was only available through direct licensing from original equipment manufacturers (OEMs) that sell Internet of Things (IoT) devices. Now, customers can purchase perpetual license without Software Assurance (SA) through the Microsoft Products and Services Agreement (MPSA) and Select Plus agreements, as well as from SCHNEIDER IT MANAGEMENT as their Cloud Solution Provider (CSP).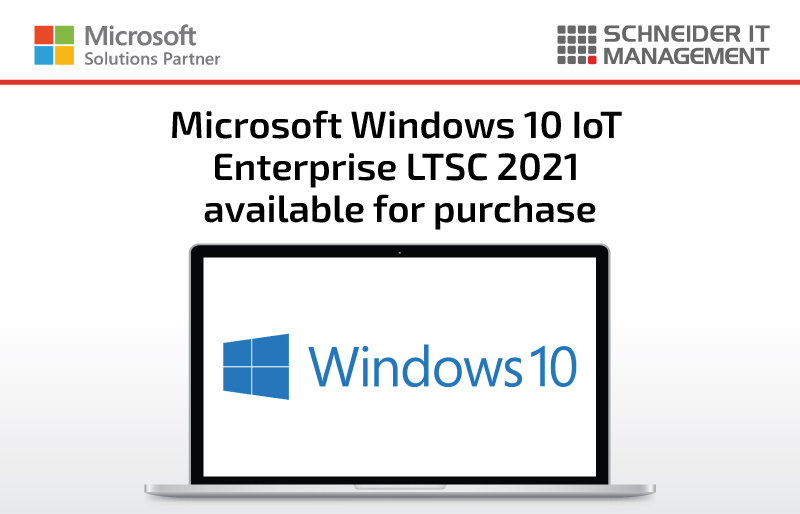 Is this interesting for my organization?
Consider this solution if your organization meets the following criteria:
Your organization requires the longer 10-year lifecycle of Windows 10 for devices specifically used in IoT scenarios.
Your organization does not purchase special devices that include the IoT LTSC license through OEMs.
If your organization fits the mentioned conditions and uses IoT in scenarios other than knowledge work, consider purchasing Windows 10 IoT Enterprise LTSC 2021 directly from SCHNEIDER IT MANAGEMENT. This version is tailored for specific purposes like manufacturing, healthcare, and retail.
More information
For the announcement, please visit: https://techcommunity.microsoft.com/t5/windows-it-pro-blog/windows-client-roadmap-update-july-2023/ba-p/3871736.
For useful software licensing information on Microsoft licensing programs, please visit: https://www.schneider.im/software/microsoft/.
Please contact us for free expert consultancy on your specific Microsoft agreements and to request a quote.