Effective November 16, 2022, Microsoft SQL Server 2022 is generally available. Volume Licensing (VL) customers can download it immediately.
With this new release, Microsoft introduces pay-as-you-go billing as an option on SQL Server 2022. The new licensing model is enabled by Azure Arc and allows customers using either Standard or Enterprise edition to pay only when they use SQL Server. The connection of the SQL Server to Azure via Azure Arc is a prerequisite. You can select pay-as-you-go billing through Microsoft Azure to install a Standard or Enterprise edition without supplying a pre-purchased product key.
Effective January 1, 2023, the price of on-premises editions of SQL Server (Enterprise, Standard & Web) increases by 10%. This price increase does not affect the SQL Server Pay-as-You-Go pricing or any of the other Azure SQL services. This price adjustment is largely due to the innovations & expanded capabilities (more than 50 new features) in this new version of SQL Server.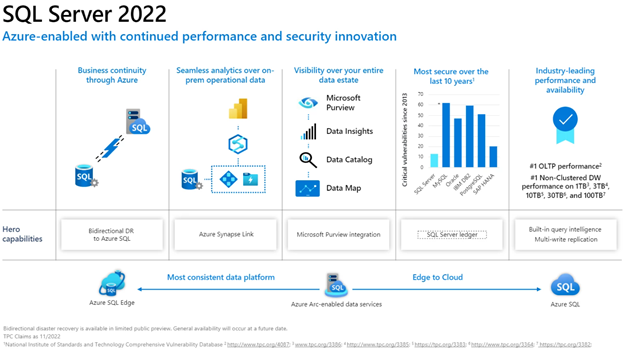 For the announcement of the general availability of Microsoft SQL Server 2022, please visit: https://cloudblogs.microsoft.com/sqlserver/2022/11/16/sql-server-2022-is-now-generally-available/.
For more information on the pay-as-you-go (PAYG)  billing model, please visit: https://cloudblogs.microsoft.com/sqlserver/2022/11/17/manage-govern-and-secure-all-your-sql-servers-with-new-hybrid-capabilities-enabled-by-azure-arc/.
For more information about SQL Server with Azure, please visit: https://techcommunity.microsoft.com/t5/sql-server-blog/manage-secure-and-govern-your-sql-server-estate-from-azure/ba-p/3674920.
For the product page, please visit: https://www.microsoft.com/en-us/sql-server/sql-server-2022.
For software licensing information on Microsoft products, please visit: https://www.schneider.im/software/microsoft/.
Please contact us for free expert consultancy, more information or to request a quote.